November 13
@
17:00
–
19:00
CET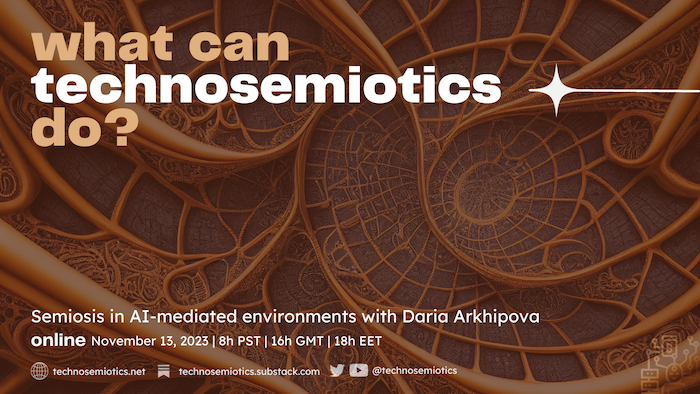 November 13 session features Daria Arkhipova, with the topic
Semiosis in Artificial Intelligence-mediated environments: exploring the dynamic sign from individual to social and cultural levels
Abstract: This work focuses on digitally mediated communication, particularly within Social media platforms using Artificial Intelligence recommendation systems. Artificial Intelligence recommendations provide users with constant stimuli encouraging online engagement.
Overstimulation, including excessive online interactions, may lead to various effects on individuals' physical, emotional and cognitive states, having social and cultural impacts.
The revision of Social media's influence on their users is done by focusing on the communication process when individuals are mainly exposed to digitally mediated stimuli. This research aims to create a bridge between knowledge in cognitive sciences and semiotics that can help to provide valuable tools for a better understanding of how communication within Social media can affect their users on different levels: from physical, cognitive, and emotional, with generalisation to Social and Cultural dimensions.
—
Daria Arkhipova is a PhD candidate at the University of Turin, Italy. Her research focuses on the process of human decision-making, mainly from semiotics point of view. Currently, she is working on the PhD project exploring how AI recommendations in social media networks can influence human decision-making process and cognition, developing a multidisciplinary approach methodology based on semiotics, biosemiotics, neuroscience and psychology. Her background research rises from different perspectives on the principles of decision-making towards the arts.